Playground Project 2022-2023
TWS Playground Project 2022
Join us in making the TWS Playground Project a reality today!
Giving Tuesday, November 29, 2022
As a means of honoring AB Whitfield and Janie Whitney on their forty years shaping students' lives and enriching their little corner of East New York, a group of devoted members of the Trey Whitfield School community have come together to build a physical manifestation of their values. They intend to transform the parking area in the front of TWS into a beautiful, safe, outdoor playspace. When we are successful, this play space will celebrate their legacy and the legacy of TWS in its community. Moreover, this transformed space will brighten the neighborhood and underscore how relevant and vibrant TWS in its fortieth year and beyond. And, of course, TWS students and professionals will be able to spill out of the front doors to an oasis of well-configured play spaces and gathering areas.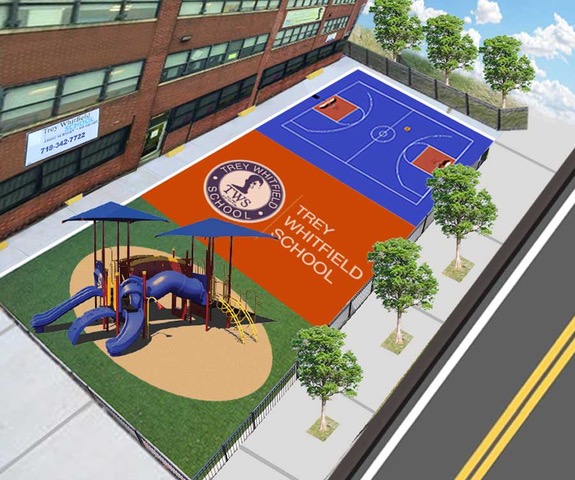 The chosen space is immense! Where pavement and cars are currently will be transformed into a diverse group of activity areas. Kids will be able to play kickball on a turf area, basketball on a rubberized court, teachers and students can gather for outdoor classes and even tend raised beds of vegetables, herbs, and flowers. This will be yet another classroom in which the loving, character-based education is taught, for which Trey Whitfield School is known.
PLEASE DONATE GENEROUSLY TO THIS WORTHY PROJECT #TWSPLAYGROUNDPROJECT